Dormer/ Design No.80 - Carberry
Bedrooms:
4
Floor Area:
198.45 Square Metres
Frontage:
12.82 Metres
Overall Height:
6.76 Metres
DESCRIPTION
A four bedroomed dormer style house with open plan kitchen/dining room and including one ground floor bedroom. Utility and bathroom facilities on ground floor level. A draught porch is included at the front entrance. The first floor layout includes three double bedrooms, a bathroom and one bathroom ensuite. The elevation has vertical emphasis windows and a rendered plaster finish. If preferred we can specify a natural stone finish to the exterior.

| | | | | | |
| --- | --- | --- | --- | --- | --- |
| DIMENSIONS | | | | | |
| | | | | | |
| Ground floor | | | | | |
| Kitchen/dining room | 8.58 | M | x | 4.65 | M |
| Utility room | 3.00 | M | x | 2.83 | M |
| Toilet | 1.53 | M | x | 1.06 | M |
| Bathroom | 2.30 | M | x | 2.83 | M |
| Bedroom 1 | 4.00 | M | x | 3.20 | M |
| Sitting room | 5.80 | M | x | 4.65 | M |
| Hall & stairs | 2.70 | W | - | | |
| Porch | 2.70 | M | x | 1.70 | M |
| | | | | | |
| First floor | | | | | |
| Bedroom 2 | 4.78 | M | x | 4.50 | M |
| Ensuite bathroom | 1.85 | M | x | 1.54 | M |
| Bedroom 3 | 4.78 | M | x | 3.03 | M |
| Bedroom 4 | 4.65 | M | x | 2.83 | M |
| Bathroom | 2.96 | M | x | 1.85 | M |
| Landing with hot press. | | | | | |
---
---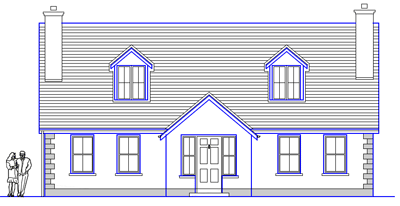 Plan Slides


Plan Downloads

Design 80 - Carberry Brochure
(67 kb)
Plan Samples
Example of a completed Planning/Construction Stage Plan, seven copies of the plan and Building Specification are included with your order.View PDF »
Site Layout Plan/Site Location Maps are required for a Planning Application and set out the site dimensions, orientation, dwelling/garage location and other required details.View PDF »
Most Local Authorities require a Landscaping Proposal to form part of a Planning Application and setting out the site dimensions, orientation, dwelling/garage location, defined site boundaries, lawn areas, planting and schedule of species.View PDF »