House Plans
Browse plans below.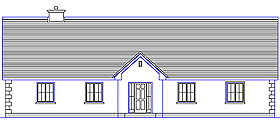 Three bedroom bungalow with draught porch and an attic space for later development.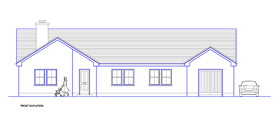 Well laid out bungalow with four bedrooms, generous dimensioned living rooms and an integral garage. The garage is suitable for later conversion to a bedroom or study.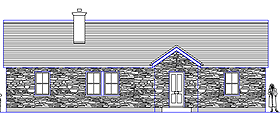 Bungalow with simple design profile and three bedrooms. The kitchen/dining room extends the full depth of the house.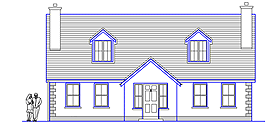 A four bedroomed dormer style house with open plan kitchen/dining room and including one ground floor bedroom.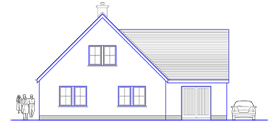 This gable facing house, always popular, is suitable for rural or sub-urban sites. Simplicity of design within a modest floor area providing good family accommodation is a feature of this layout.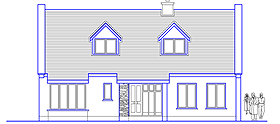 A three bedroom dormer house with unusual design features. The dwelling has practical accommodation arranged around a central hall space.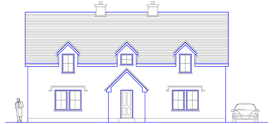 Substantial one and a half storey family home with a traditional front elevation. The exterior is rendered and the roof is finished with slates.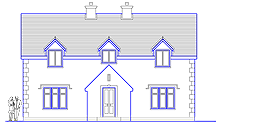 Traditional one and a half storey house with symmetrical detail on the front elevation and a rendered finish.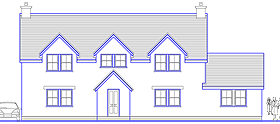 Narrow form storey and one half dwelling with an interesting layout. Full family accommodation with a variety of living rooms and four good sized bedrooms.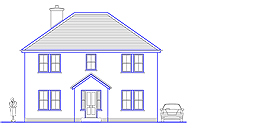 Traditional two storey farmhouse. The roof is hipped and finished with slates. We have indicated one bedroom at ground floor level.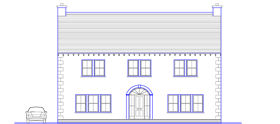 This farmhouse style two storey dwelling has a traditional elevation with rendered plaster and a slated roof. Windows have vertical emphasis.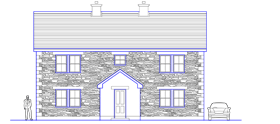 This traditional style two storey farmhouse has a modest floor area and large family accommodation. Pocket type doors connect the kitchen/dining and living rooms.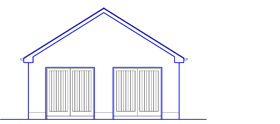 Two vehicle garage with space for workbench and good circulation space. Large storage room adequate for boiler and fuel storage. Individual vehicle doors.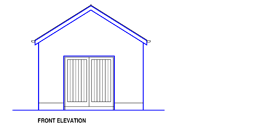 Simple construction and space for one vehicle, this garage includes a large storage room for a boiler or garden equipment. Rendered finish externally.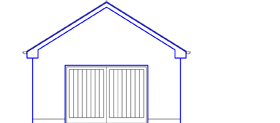 Large domestic garage with workshop space. Boiler room to suite oil fired or woodchip boiler. Storage room for gardening implements.